Arnold Dreyblatt & Crash Ensemble, The Orchestra of Excited Strings, etc . . .
Crash Ensemble performs Arnold Dreyblatt's Resonant Relations & twentyfive chords in twentyfive in ninety four variations
-
(Cantaloupe 2008)
Arnold Dreyblatt:

(b. New York City, 1953) is an American composer and visual artist. He studied music with Pauline Oliveros, La Monte Young, Alvin Lucier and media art with Steina and Woody Vasulka. He has been based in Berlin, Germany since 1984. In 2007, he was elected to the German Academy of Art (Akademie der Künste, Berlin).[1]

In his installations, performances and media works, Dreyblatt creates complex textual and spatial metaphors for memory which function as a media discourse on recollection and the archive. His installations, public artworks and performances have been exhibited and staged extensively in Europe. "Dreyblatt's project, maintains its edge--and its importance for the rethinking of identity, history, culture, and memory--by refusing to retreat from or transcend... ...public, archival traces." - Jeffrey Wallen, Hampshire College.

Among the second generation of New York minimal composers, Arnold Dreyblatt has developed a unique approach to composition and music performance. He has invented a set of new and original instruments, performance techniques, and a system of tuning. His compositions are based on harmonics, and thus just intonation, played either through a bowing technique he developed for his modified bass, and other modified and conventional instruments which he specially tuned. He originally used a steady pulse provided by the bowing motion on his bass (placing his music in the minimal category), but he eventually added many more instruments and more rhythmic variety.

In 1998 he was awarded a grant from the Foundation for Contemporary Arts Grants to Artists Award.

-

Wiki
Arnold Dreyblatt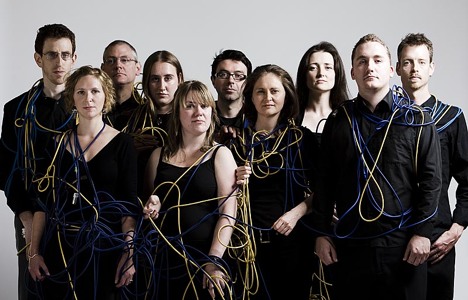 Crash Ensemble:

- is an Irish new music ensemble, founded in 1997 by composer Donnacha Dennehy, conductor and pianist Andrew Synott and clarinettist Michael Seaver. It played its first concert in Dublin in 1997. It currently consists of 11 performers and the conductor Alan Pierson, under the artistic direction of Dennehy, as well as using video, lighting and sound amplification as an integral part of the project.

The ensemble has been particularly associated with totalist (post-minimalist) composers from the US and post-new Hague school composers from Holland, as well as performing much music by Dennehy and other Irish coomposers and older pieces by the minimalist generation (including

Steve Reich, Philip Glass, Louis Andriessen, Gavin Bryars, Roberto Carnevale, Kevin Volans and Terry Riley

). It has given premieres or commissioned work by

Peter Adriaansz, Raymond Deane, Arnold Dreyblatt, Stephen Gardner, Michael Gordon, John Godfrey, Andrew Hamilton, Jurgen Simpson, Gerhard Stabler, Jennifer Walshe, Ian Wilson, Linda Buckley and Julie Feeney

.

Since 2002 Crash has been mounting its own contemporary music festivals in Dublin, in a similar manner to the Bang on a Can Festival in New York, including adopting their popular 'marathon' format for their 2006 celebration of Reich.

Other than touring in Ireland, Crash have performed in Canada, Denmark, Estonia, Germany, the Netherlands, Sweden, the UK and the US. They have recorded for New York label Cantaloupe Music as well as for NMC Recordings in London.

Wiki
-
Crash Ensemble
*************************************************************************************
Track 2: Escalator
Cantaloupe CA21001
Bang On A Can All-Stars
Special thanks to Evan Zyporyn
"Arnold Dreyblatt's Escalator is based on recordings of malfunctioning escalators. The band would hammer away on one note while the drums pounded with Beefheartian rhythms. Tense harmonies abruptly gave way to gentler sections while still maintaining typical Dreyblatt rhythms. Escalator sounded less like a malfunctioning escalators than an insanely mad town orchestra. Bang On A Can should commission more works by New York City microtonalists like Branca and Dreyblatt."
- Juxtaposition Ezine
In 1986-87 I began working on a "digital dynamic processing system" for a commission at Ars Electronicain Linz in 1987 and further developed this in a residency at STEIM in Amsterdam in 1989. This system was triggered with recorded machine tracks and interacts with acoustic instruments. Its basis are recordings of the rhythms produced by a number of malfunctioning escalators on the Blvd. Ansbach in Brussels which I made in 1987. In this version of Escalator, I notated repetitive rhythmic patterns found in these recordings and scored them for cimbalom, prepared electric guitar and cello, later adding layers of percussion, saxophone and prepared "excited strings" bass in collaboration with the musicians

This performance of Escalator for the Bang in a Can All-Stars was the first occasion where my music has been played by an ensemble other than my own. The piece had its beginnings in a duet performance piece with percussionist Pierre Berthet in Belgium in 1988, and it has been performed in various transformations by The Orchestra of Excited Strings over the years.
- Arnold Dreyblatt