Ass - "Salt Marsh"
I thought I had posted about this guy before, but I can't find anything on the site. That's gonna change now, because Ass has a new album out and it's so damn pretty it just about brought tears to my eyes.
The new album is called "Salt Marsh"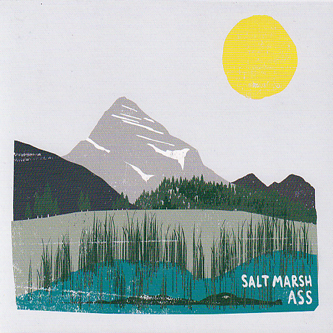 It's this multi-instrumentalist, oh, y'know, I'm feeling lazy tonight. Here's a copy and paste from his label website...
After half a decade of living room recordings whilst backing up the Swedish top list artists, versatile punk rocker and instrumentalist Andreas Söderström has made his debut as a solo artist under the name Ass.

It´s a mainly instrumental folktronic journey into a soundscape of multilayers performed entirely by himself. Selftutored amongst the jungle of strings in his father's bouzoki factory, Andreas is a familiar bearded face in the Swedish alternative music scene.

Over the past years Andreas has played bass with multi-awarded pop princess Jenny Wilson, trumpet and lapsteel with the international renowned electronica project Tape, harmonium, key harp and guitar with the folk orchestras Barr, Pallin, Blood Music and Taken By Trees, the latest incarnation of former Concretes singer Victoria Bergsman.
I also have downloaded tracks from his other two albums "Ass" and "My Get Up and Go Got Up and Left". I cherry picked tracks off the two albums to use up, what I thought at the time, were my final emu downloads, and I guess I've never picked up the rest. He does a cover of the theme song from the movie "Escape From New York" that pretty much cemented in my mind that this guy has a gold-standard set of ears for a musician.
Anyways, I've really enjoyed the album I cobbled together of his first two, and hearing a few tracks from his new one, I got that ecstatic rush that comes from hearing a musician I really enjoy develop their sound and expand it in terrifically beautiful directions. I highly recommend digging into his catalog.
Here's the myspace page with songs from Salt Marsh and past albums on it...
http://www.myspace.com/assmyass
Here's the emu page...
http://www.emusic.com/album/Ass-Salt-Marsh-MP3-Download/11901879.html
Also, this album is available on Mtracks if you're feeling inclined to join or already there.