Ear-X-Tacy - Louisville, KY
Most of us have fond memories of great brick&mortar stores, either still alive and kicking or shuttered long ago. This thread will be for them.
With MP3s becoming increasingly prevalent in our music buying habits, it's not hard to see the connection between the rise in digital stores and the decline of brick&mortar music stores. This is an opportunity to put the spotlight on your favorite music stores. They could use the hype for fuel, and if the store has already gone under, it'll be a chance to honor their memory.
I'll go first.
My first one is a new one to my life. Ear-x-Tacy in Louisville, KY has been in the Highlands for decades. My wife grew up down the street from it and has nothing but great memories of the place. It's the first music store I hit in Louisville.
Ear-x-Tacy has been a huge supporter of the local music scene. They have shows at their store, as well as a large section devoted just to local music. Their two story location has more genres than I can keep track of. Their jazz section isn't huge, but it also has more than just the latest RVGs. There have been plenty of times I was browsing the shelves and found something that made me sit back in surprise that they had it in stock. It's no Jazz Record Mart, but they have nothing to be embarrassed about.
The store is huge. It's two stories, located in the Highlands neighborhood, which is a great section of Louisville to hang out in. Lots of nifty things to do and eat and drink. I just learned that they're moving out of their present location and just down the street to a smaller space, which I assume, costs less. There were reports they were on the verge of going under, but the resulting press brought the customers out of the woodwork and the increased sales gave them the ability to go on. Between holiday and birthday gift certificates and sales credits, I've been helping the cause.
I try to stop in whenever I'm in Louisville (about once a month). On a recent visit, I stopped in to use some of my gift certificates and to spend some cash on top of that. I had a list of about ten different bands/musicians/albums I was looking for. Like I said, the place is huge and filled with tons of different genres (for instance, I found my John Zorn under Noise/Experimental). One of the employees asked if he could help me. I told him I had a list and only about fifteen minutes before my wife began to suspect that I had taken a "detour" from the grocery store where I was supposed to be running an errand. The employee took the list from me, checked the stock status on his computer, then walked me from section to section to track the albums down. Ten minutes later, I had four albums in hand and one on order. The owner, a very nice guy, came over and apologized that he didn't have more in stock; he had been cleaned out by the wave of sales by people reacting to the news that their music store was in danger of going under. Very cool.
Here's some pictures of the store...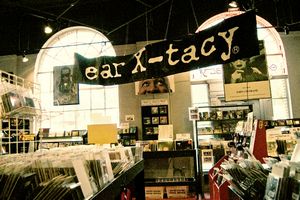 And here's their website. They have an online store as well.
http://www.earx-tacy.com/home.htm
I've got plenty more to talk about. So should you.